Signature Lacrosse and Signature Pro Dhane Smith are proud to introduce the "I Belong Here" campaign that's designed to benefit The Conscious Kid - a non-profit set up to fight systemic racism through education. A sense of belonging and the feeling of being a part of something are aspects of playing team sports, like lacrosse, that make being on a team such a great experience. Lacrosse players learn a lot about life by joining a lacrosse team, playing in lacrosse games, and competing against other lacrosse teams. Unfortunately, not all of these life lessons are positive moments, and lacrosse players are forced to learn about negativity when the opportunity presents itself. Racism, sexism, and bigotry are experienced by lacrosse players because these beliefs are unfortunately parts of our society and world.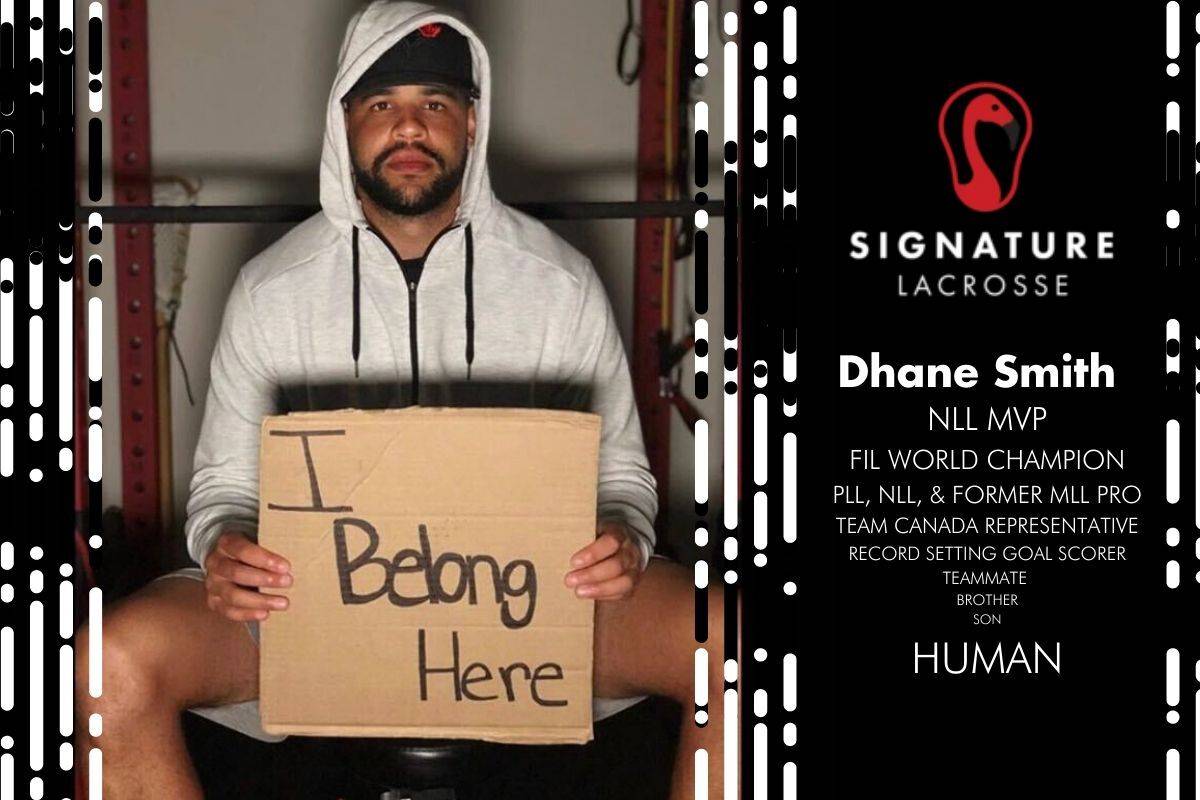 NLL MVP and Signature Lacrosse Pro Dhane Smith has learned so much about the game of lacrosse during his career, but he's also learned a great deal about himself from the sport of lacrosse. As a black man who grew up in Canada, it was not uncommon for Dhane to be the lone person of color putting on his team's jersey. And when you look around and you feel like no one can relate to you or how you feel, the color of your skin can seem to matter more than the color of your jersey. This can be especially true when you're targeted by opposing players and spectators who use racial insults as weapons, and there's no way to know how your team will react. Dhane's journey from youth lacrosse games to becoming the first black MVP in the NLL was not one paved with privilege or clear of obstacles, but his path to becoming a champion and world-class athlete is well defined and taught him two things: One, "I Belong Here." Two, "So Do You."
---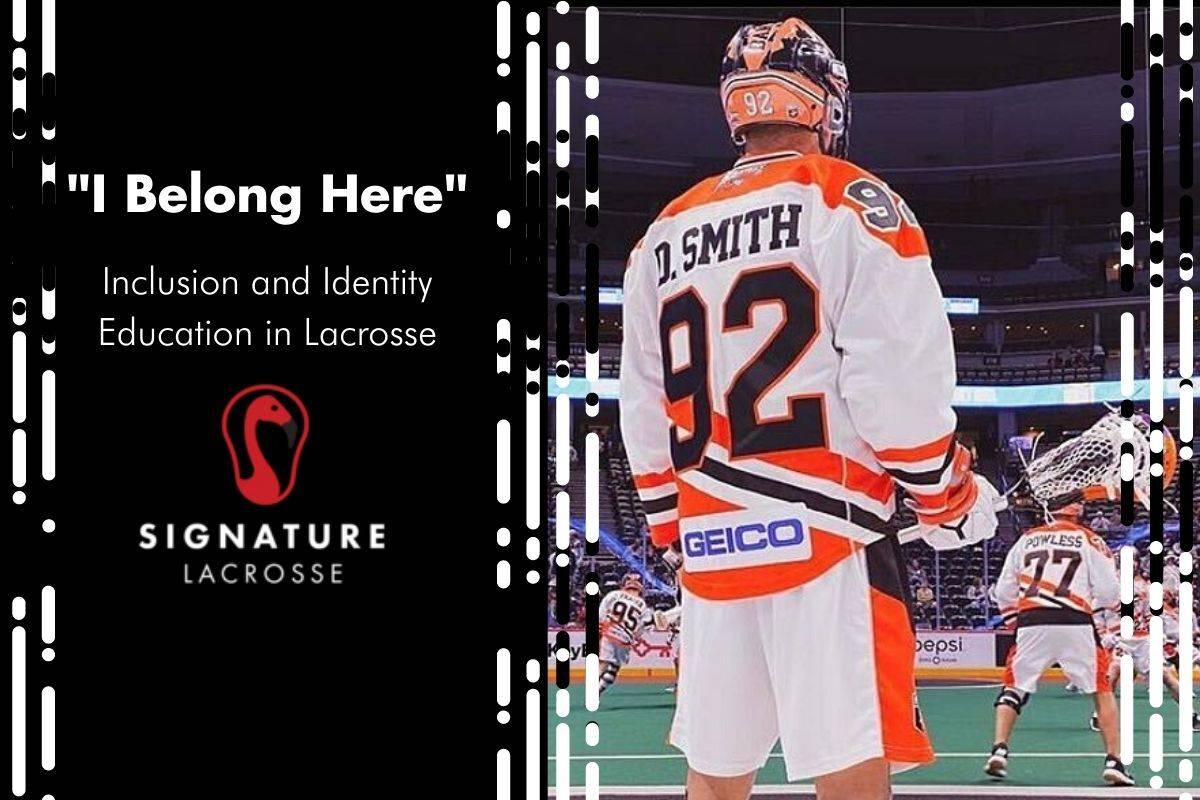 ---
The "I Belong Here" Mission from Dhane Smith & Supported by Signature Lacrosse
---
While progress in the name of civil rights has been made over the past 70 years, we still have a lot left to accomplish. To combat the hate and ignorance that's faced by lacrosse players of color, Dhane Smith and Signature Lacrosse are collaborating on the "I Belong Here" campaign. The "I Belong Here" team store will be benefiting The Conscious Kid non-profit organization, which helps promote healthy racial identity development for the youth through education.
The mission for the "I Belong Here" campaign is simple; educate the lacrosse community about the challenges still faced by lacrosse players and coaches of color today while creating loyal allies willing to support inclusion in lacrosse. Dhane may be the first black MVP in the NLL, but we're sure he won't be the last. The way that becomes a reality is by making lacrosse a more inclusive sport that doesn't allow the color of a player's skin affect their ability to be respected. Supporting the "I Belong Here" campaign shows that you're committed to making a change in how lacrosse players of color are treated and allowing inclusivity to be a basic principle of lacrosse. This campaign is also a reminder to all lacrosse players that they should be valued, respected, and a sense of belonging in the sport. Dhane shared his inspiration for the campaign saying "I know there's probably tons of black kids out there that deal with the same kind of issues that I did, and for them to see that I went through the same things and I'm playing at the highest level, I'm hoping that helps them."
---
Belonging Begins with One
---
Having a feeling of belonging wasn't always a part of Dhane Smith's lacrosse career, and it took time and courage to become the man he is today. From microaggressions that people probably thought sounded like jokes to outright blatant racial slurs, Dhane had to pay a price to play lacrosse that not all of us players can relate to. And putting up with repetitive discouragement, misunderstandings, and unfair treatment can do a lot to disrupt someone's identity and damage how they see themselves. For Dhane, being black and playing what everyone around him considered a "white" sport made him a fish out of water; and it took his exceptional talent and willingness to preserve to realize that he's exactly where he belongs. You don't just become a World Champion, league MVP, dual-league professional, and record setting player on accident; you earn it all.
---
---
While lacrosse is currently a predominantly white sport, the tide is turning more and more. As a globally growing sport, lacrosse is growing into communities where it has previously never been played. Dhane, and other lacrosse players of color, are catalysts for change and they show young lacrosse players who are black or brown or any color that they can succeed at the highest levels of lacrosse too. Looking at what Dhane Smith has accomplished in his career, it allows any lacrosse player who may feel like they are alone to say, "I Belong Here."
"I am really proud of our team, for coming together and getting behind a really meaningful campaign. Dhane's character, leadership, and influence will make a difference in sports.", said Dan Soviero / One of the Founders of Signature Lacrosse
---
---
Stay curious, have the conversations, and be open minded!

100% of profits from the

"

I Belong Here" Team Store

"

go to supporting

"

The Conscious Kid

"

. Buy a shirt, hat, water bottle, sticker, whatever and encourage those around you to keep the conversation alive!
---
---