---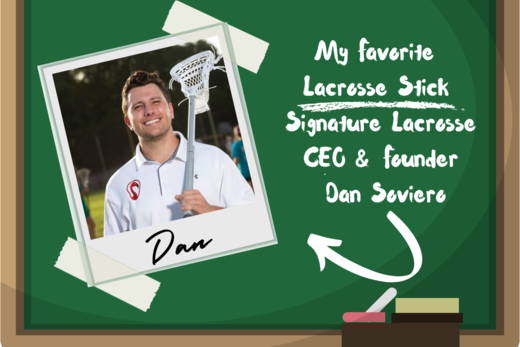 ---
Growing up, I was never a huge "gearhead" who fanned over the newest and latest lacrosse sticks, but I definitely had my fair share of favorite lacrosse sticks. It's not that any specific lacrosse stick was my favorite, yet making a lacrosse stick my own and making it work for me made it my new favorite that always gave me the confidence to approach any challenge with a winning attitude. Using ingenuity and some trial and error testing, I was able to modify some classic lacrosse heads to create my own style of lacrosse stick that helped me feel unique and innovative.
So, from an early age, you could say that I was crafting lacrosse sticks of my own well before Signature Lacrosse was even a thought in my head, let alone a leader in innovation within the lacrosse industry. While my current favorite lacrosse stick is the Signature Complete Universal Men's Lacrosse Stick, I grew up on classic lacrosse heads like the Evo and the Torque that made me want to make my own iconic lacrosse stick one day. And now, I'm blessed to have an incredible team at Signature Lacrosse that works tirelessly to bring the vision of a young lacrosse player to life through products that push the limits of what was previously thought to be impossible within the world of lacrosse.
---
How Other Lacrosse Heads Made Me Wish I Was Behind the Design
---
As I said above, the Evo and Torque were really my bread and butter when I was playing lacrosse, but even my favorite lacrosse heads left me scratching my own head about certain things as I was trying to get the absolute most out of my gear. They were my favorite choices because they offered excellent advantages to my game; however, they were still not perfect to me. Using some good old fashioned creativity, I decided to modify my favorite lacrosse heads to fit my exact needs as a lacrosse player. I'd take a drill and add an extra sidewall hole to my Evo's to help with placing my lacrosse pocket precisely where I wanted it, and I'd take a hacksaw to the inside of the Torque to open up the face-shape. (Don't tell anyone I was doing this or my youth lacrosse records will have to have asterisks placed next to them!) And ever since I realized I could really "create" my own favorite lacrosse head with a little elbow grease, I've wanted to actually create my own favorite lacrosse stick.
---
---
So once Signature Lacrosse began gathering steam as a leader in the lacrosse ball market with our Signature Premiums that have been used in professional lacrosse leagues, NCAA lacrosse games, and the biggest lacrosse tournaments in the world, the obvious next step was to create lacrosse sticks that had the same forward-thinking aspects to benefit lacrosse players. That's how the Signature Contract lacrosse head and The Player lacrosse shaft came into existence, after plenty of research and development on the pursuit of a lacrosse stick that would make any player really feel like a pro. Now, Signature Lacrosse is helping supply lacrosse players all across the world with my favorite lacrosse that I sincerely hope is their favorite lacrosse stick too.
---
Why the Signature Complete Universal Men's Lacrosse Stick is A Clear Winner
---
Not only is the Signature Complete Universal Men's Lacrosse Stick an excellent price for any player just getting started playing lacrosse, it's a great option for lacrosse players at the highest levels of the game too. Used and tested by NLL pros, the Signature Men's Complete is applicable for all lacrosse players looking for a stick that won't break the bank but will help you break into the starting lineup. We offer the Signature Universal Men's Complete Lacrosse Stick in both an offensive and defensive length, and the Signature Contract Lacrosse Head makes it a perfect choice for both a staunch defender or a sly scorer. And the Signature The Player Lacrosse Shaft has that sandblasted grip that I always looked for as a young lacrosse player, so you can really use as little or as much lacrosse tape as you want to get the security you prefer in any style.
---
---
But we couldn't stop with just helping out men's lacrosse players, and that's why the Signature Team developed my other favorite lacrosse stick too - the Signature Complete Universal Women's Lacrosse Stick. The ladies of lacrosse also need an option that's going to make them enjoy playing the game, and not something that's going to cause more hassle than it's worth. With our Signature Pro Strung Pockets included on both of these options, as well as our Signature Complete Junior Lacrosse Sticks for both boys and girls, there are endless reasons why these are not only my favorite lacrosse sticks, but sticks I hope are your favorites too.
You also can learn more about the specific details and innovative technology used in the Signature Complete Lacrosse Stick line in the articles below and always check them out in the Signature Lacrosse store to get your own for your next lacrosse season or tournament.
---
---