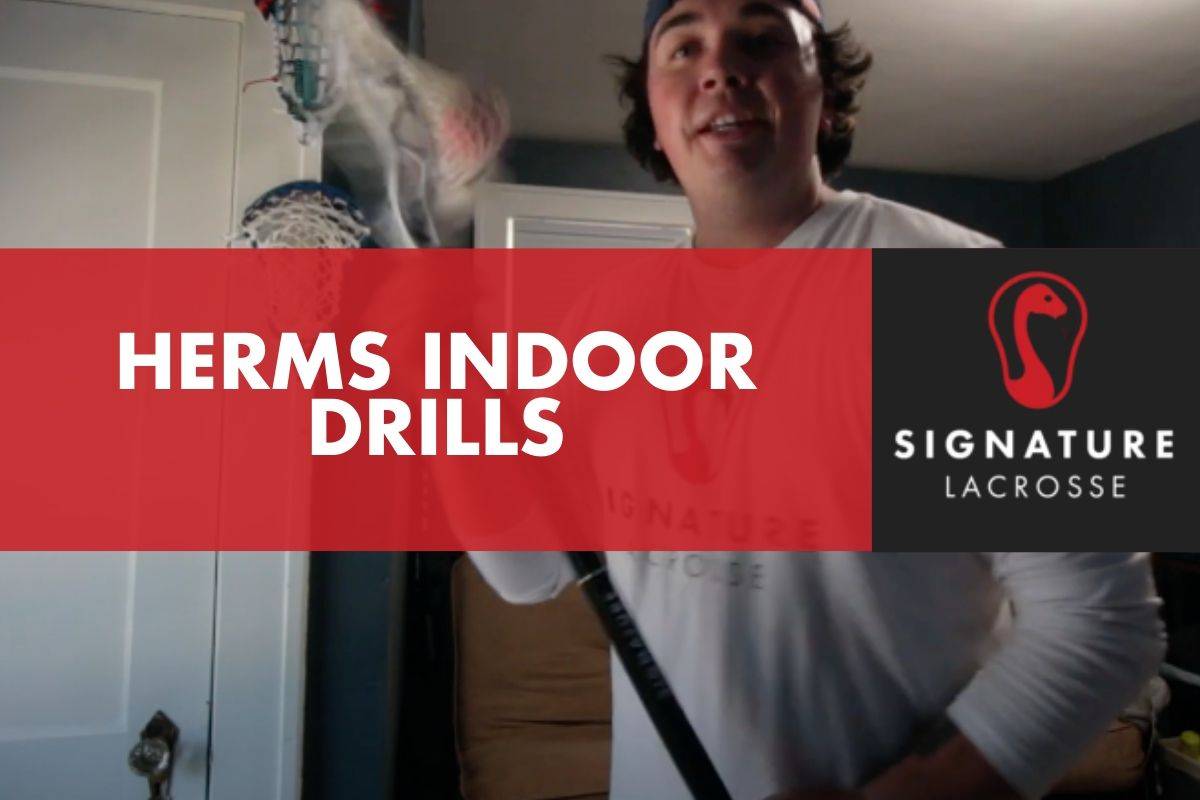 There's nothing worse than getting jazzed up to go to your favorite lacrosse field, and then getting rained out. As disappointing as this is, it's not the end of the world and we can still get better inside! Some of my best lacrosse skills have come from playing lacrosse inside. Tight spaces for improving stickwork can make anyone a better lacrosse player.
---
At Home Indoor Lacrosse Drills With Signature Lacrosse
---
The best indoor lacrosse spot gives me enough room to freely spread my arms and spin a full 360 degrees. Your indoor lacrosse training can be in a bedroom, living room, or anywhere that gives you the best space to practice lacrosse. Once you have a space, all you need is your stick and a Signature Premium Soft Lacrosse Ball. I prefer to use Signature Premium Soft Lacrosse Balls to avoid breaking anything, but our regular Signature Premiums work just fine if you're not around any windows or breakable stuff.
---
---
---
Drill #1: The no lacrosse ball dodge sequence.
---
Exactly how it sounds, this indoor lacrosse drill warms up the hands and gets you more comfortable with your lacrosse stick. I like to pretend that objects in the room are defenders on the other team and I have to use every dodge in my repertoire to get by them. By doing this without the ball, I feel confident in every dodge. I can also work through my sequence much faster and practice every lacrosse dodge I know.
---
Drill #2: The dodge sequence with a lacrosse ball
---
Now, it's time to bring a lacrosse ball into play and go through the same dodges that you just worked on without a lacrosse ball. This may take a bit longer, however, dodging this way will help for when you're on a real lacrosse field. Any time that you are able to spend with your lacrosse stick in your hands is time well spent. You want your lacrosse stick to become an extension of the body that you're totally comfortable with. For this indoor lacrosse drill, I like to go through each dodge at least ten times in a row without dropping the ball. I also like to work on beating my personal best of times without drops to make it more interesting.
---
Drill #3: Transitioning between hands
---
For this indoor lacrosse drill, I like to get on my knees and really pump my arms to practice switching between my right and left hands. As a young lacrosse player who could not play left handed to save his life, I'd practice this for hours. However, I was able to get this first step down thanks to this indoor lacrosse drill. I like to start righty, give my stick a "twirl", then switch to my left, and repeat. I'll do this until I am able to switch back and forth for a solid minute or so without losing the ball.
Sidenote: This can also be done without a ball at first and then with the ball added after for a young lacrosse player.
---
Drill #4: Ripping imaginary corners
---
This is by far my favorite indoor lacrosse drill because improving your lacrosse shot makes you such a better lacrosse player. We are going to work on our lacrosse shooting motion and getting comfortable with isolating the top half of the body. Start on your knees and hold your lacrosse stick in the shooting position. Next, dramatically go through the shooting motion and really analyze the path that your lacrosse stick is following. Being self aware of your shot motion, and work on fluidity and muscle memory. I like to go through these slow shots about ten times, making sure to follow the same shot path each time.
Next, speed it up to 70% speed without getting sloppy in your mechanics. Once you go through that another ten times, it's full speed ahead. Go through your hardest shot, keeping the same mechanics and ripping those imaginary corners. If you catch yourself getting sloppy with the shot, reduce to a slower pace. This can take a while but it will translate very well to the field.
---
Drill #5: Passing to the pillow
---
Staying on your knees, we now reincorporate the ball back into play. This drill should be done in front of a couch or bed where you can prop up a pillow as a target. After you are all set up, simply practice passing at the pillow and staying on target. I like to aim at the middle of the pillow, and get at least 25 in a row before switching to my left hand. This is also where I like to work on fakes and other in-game motions I make.
---
Indoor lacrosse drills are quick fun
---
In closing, I can't guarantee that these drills will make you a pro, but they are some of the things that have helped me become the men's league star I am. When the fields are closed, and you are stuck inside there is no reason not to get better! And, spending some time working on indoor lacrosse drills is going to pay off more than another hour playing video games or watching TV.
Shop Signature Lacrosse Sticks
---
---