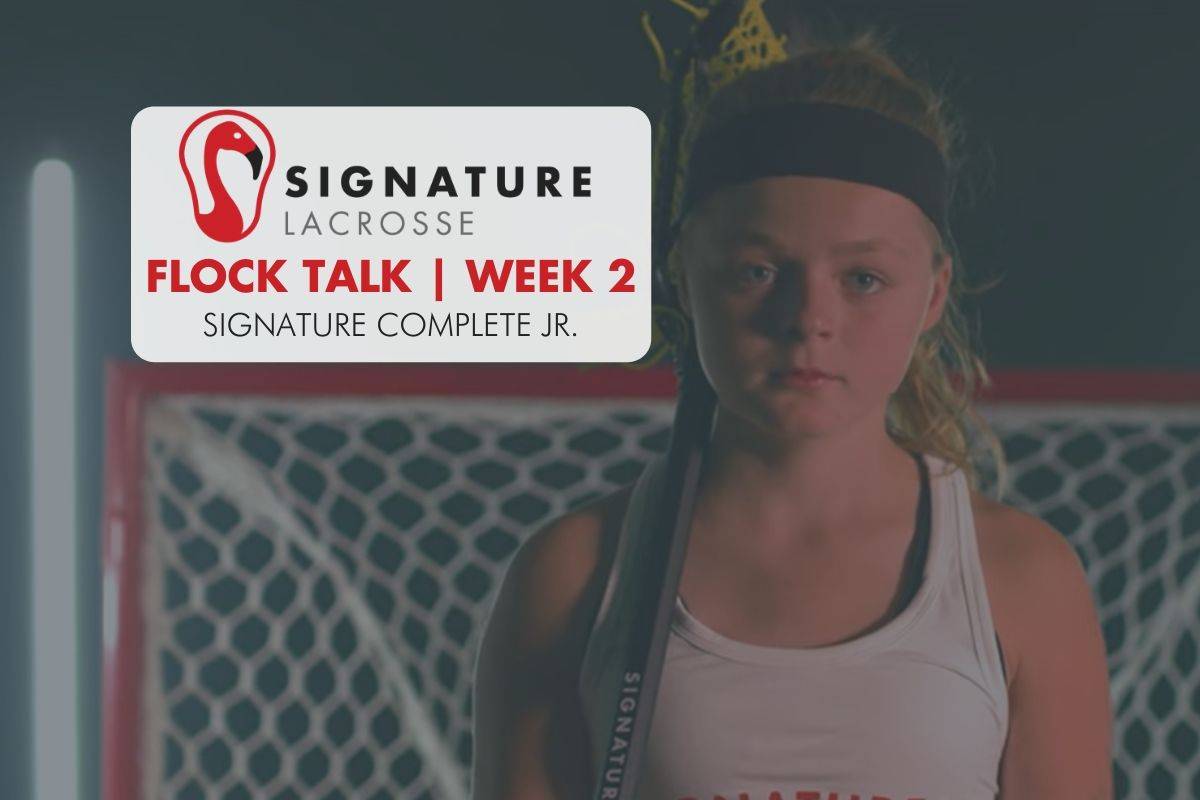 A brick can be more than just a brick when in the hands of an innovator, and the same is true about both Signature Lacrosse Complete Junior lacrosse sticks. In a pinch, you can use a brick as a hammer, a doorstop, a paperweight, or a step; and Signature Lacrosse Complete Junior lacrosse sticks also serve more than one purpose. There's just one burning question- is a Jr. lacrosse stick a mini stick or a youth lacrosse stick? And the answer just happens to be - both.
---
Signature Lacrosse Complete Junior Sticks
---
Function & Fun All In One - Signature Complete Junior Sticks
---
Signature Lacrosse was founded to solve everyday lacrosse issues, and our mission to revolutionize the landscape of lacrosse begins with improving lacrosse equipment at all levels. So we took a special look at youth lacrosse and came up with the Signature Jr. lacrosse sticks. Our team at Signature wanted to fix the issues of youth lacrosse players showing up to their first practice of the year with a lacrosse stick that's too clunky and has a pocket that needs immediate attention or as we like to call it is a "frying pan". That's why we developed the best youth lacrosse sticks with Pro Strung pockets of Signature Magik Mesh that are ready to hit the field right from the start.
After creating Universal lacrosse sticks with the first lifetime warranty in the industry, Signature Lacrosse turned to making Jr. versions of our men's and women's sticks that are functional and fun for all lacrosse players of all ages. And at only $49.95, the Signature Lacrosse Jr. sticks are an affordable complete lacrosse stick that's a class above the competition.
Instead of making a youth lacrosse stick that's just a flimsier version of adult sticks and a mini-stick that's just an even flimsier version of the youth lacrosse stick like other brands do, Signature Lacrosse decided to innovate the idea of youth lacrosse sticks and mini-sticks for all of lacrosse.
Signature Lacrosse created the Signature Complete Jr. lacrosse sticks to give youth lacrosse players the best opportunity to enjoy picking up the sport of lacrosse at a young age. With wide face shapes, durable Delta Tech construction, and scoops that vacuums up ground balls, our Complete Jr. lacrosse sticks put youth lacrosse players in a position to succeed and improve their game while boosting their confidence.
The Best Youth Lacrosse Sticks - Signature Complete Juniors
---
Why buy a youth lacrosse stick that's not going to make youth lacrosse fun? The Signature Complete Jr. lacrosse sticks are made with a thinner version of our aerospace grade aluminum lacrosse shaft for much easier control in smaller hands without sacrificing the strength our lacrosse sticks are known for. And with the wide face shapes of the heads on the Signature Complete Jr. lacrosse sticks, catching and ground balls become a learning experience for young lacrosse players, and the game comes more naturally.
And once you get a Signature's Complete Jr. lacrosse stick, the best part is that it's immediately ready for play with our ProStrung Pockets. No more figuring out how to string, sending your stick away for a week to the local sports shop, or having to put up with a lacrosse pocket that's holding you back thanks to Signature Lacrosse. Our Pro Strung pockets are strung with longer-lasting Signature Magik Mesh to make a pocket that's performance and practicality driven. Our youth lacrosse players need a lacrosse stick that's able to be played with immediately, and also at a moment's notice, without having any issues, and that's why the Signature Complete Jr. lacrosse sticks are the best youth lacrosse sticks in the game.
Signature Lacrosse Mini Sticks Are Mega Fun
---
Using a mini stick is supposed to be fun, but there's nothing fun about plastic that bends when the sun gets too hot, a lacrosse shaft that can break when you shoot too hard, or lacrosse mesh that would be better off patching holes in your goal. With a Signature Complete Jr. lacrosse stick, your mini stick is strong enough to make it onto the actual field and functional enough to be used by pros and college players. You also get Signature Magik Mesh included in a Pro Strung Pocket so you can enjoy playing mini sticks, instead of complaining about how terrible your mini stick throws.
Enjoy Lacrosse Everywhere With Signature Soft Lacrosse Balls
---
Once you have your Signature Complete Jr. Lacrosse stick, don't forget to get a pack of our Signature Soft Lacrosse Balls so you can have fun playing lacrosse no matter where you are. Our Signature soft lacrosse balls are perfect for teaching youth lacrosse players how to build confidence, getting some practice indoors, or working on getting extra soft hands. And with restrictions on where you're able to play with a hard lacrosse ball because of windows, other athletic equipment, or other people, Signature soft lacrosse balls save the day and allow you to keep getting reps and getting better.